The B&O 4-6-2, P7 #5301 alongside the C&O 4-6-4 L1 Hudson #490
In the late 1940's, due to significant post war backorders of diesel and modernized passenger equipment, The B&O Railroad, along with rival C&O Railroad, streamlined a few steam locomotives and upgraded existing passenger equipment in an effort to boost rail traffic. This limited edition train print showcases the B&O 4-6-2, P7 #5301 (The Cincinnatian) alongside the C&O 4-6-4 L1 Hudson #490 (The George Washington) at Cincinnati Union Terminal. These engines reflected the hope for future passenger business. Ironically, within 15 years, these railroads would merge, forming the foundation of one of today's premier railroad freight companies, CSX.

This historical painting of two streamlined steam locomotives is now available as a limited edition Giclee print with special pricing & free shipping. Each limited edition Giclee print ships with a Certificate of Authenticity. The limited edition size for reproductions of the original painting is 200 large prints and 500 small prints. Your satisfaction is backed by our 30-day 100% refund policy.

Founding Fathers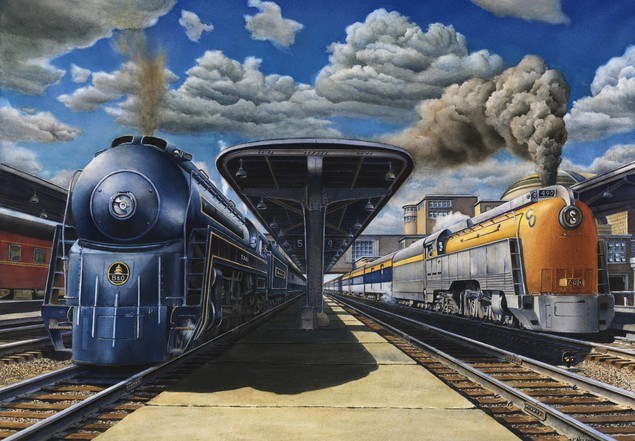 Large Print
24" x 18"

$175.00




$129.99

Small Print
15" x 11"

$85.00




$59.99