The Wabash #2814 Class M1 4-8-2 Locomotive
This limited edition train print showcases the The Wabash #2814 Class M1 4-8-2 locomotive. It was one of twenty-five delivered to the Wabash Railroad by Baldwin Locomotive Works in early 1930. The Wakarusa station agent hands up orders to a fast moving Westbound Extra while eastbound No. 52, the Gary Local, waits in the siding. The Wabash brakeman is standing outside the cab to take on orders which was standard operating practice on these locomotives. The depot still exists today and is used as a museum for the Wakarusa Indiana Historical Society.

This commissioned painting of The Wabash #2814 Class M1 4-8-2 Locomotive is now available as a limited edition Giclee print with special pricing and free shipping. Each limited edition Giclee print ships with a Certificate of Authenticity. The limited edition size for reproductions of the original painting is 200 large prints and 500 small prints. Your satisfaction is backed by our 30-day 100% refund policy.
Wabash Meet at Wakarusa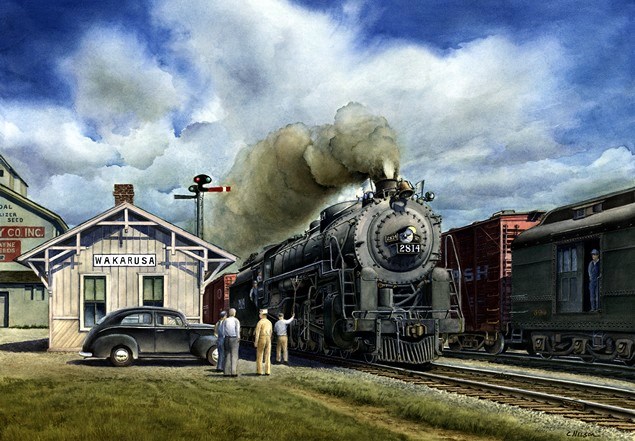 Large Print
29" x 21"

$175.00




$129.99

Small Print
15" x 11"

$85.00




$59.99