The B&O EM-1 2-8-8-4 Locomotive
In 1944, The B&O Railroad acquired its greatest modern steam locomotive, the EM-1 2-8-8-4, from the Baldwin Locomotive Works in Philadelphia. By the end of 1945, B&O would have 30 of these locomotives. This engine represented the pinnacle of steam power. Also known as the Yellowstone type, at 125 feet in length and over one million pounds, these giants had power and speed. They matched up well against some of the largest and most well known steam engines in the country. Unfortunately, none of these magnificent engines survived the scrap yard. Pictured is #7610 working through the "S" curves near Manila, MD, one of the steepest parts of Sand Patch Grade.

This vintage painting of The B&O EM-1 2-8-8-4 Locomotive is now available as a limited edition Giclee print with special pricing & free shipping. Each limited edition Giclee print ships with a Certificate of Authenticity. The limited edition size for reproductions of the original painting is 200 large prints and 500 small prints. Your satisfaction is backed by our 30-day 100% refund policy.

Showing Off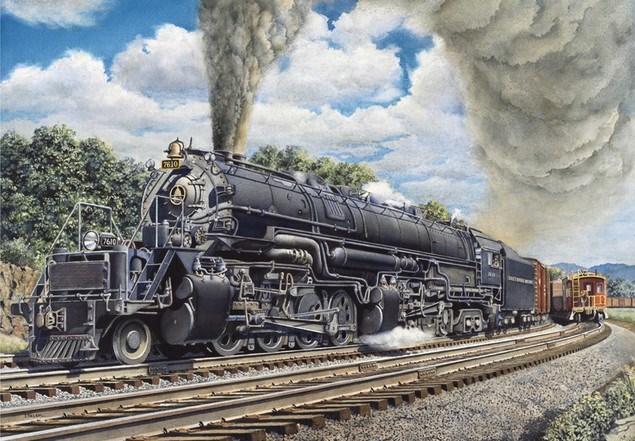 Large Print
29" x 21"

$175.00




$129.99

Small Print
15 1/4" x 11"

$85.00




$59.99