The B&O Capitol Limited
This limited edition train print showcases a pair of E6 A diesels (with a trailing B unit) bringing Train #5, The B&O Capitol Limited, to its first stop at Silver Spring, MD. The Capitol Limited was B&O's Premier all-Pullman overnight train from Baltimore to Chicago by way of the Washington D.C. metropolitan subdivision. Bystanders often came to the station to admire and watch this great train; dreaming one day, they would also experience the distinction of First Class B&O rail travel.

This memorial painting of The B&O Capitol Limited is now available as a limited edition Giclee print with special pricing and free shipping. Each limited edition Giclee print ships with a Certificate of Authenticity. The limited edition size for reproductions of the original painting is 200 large prints and 500 small prints. Your satisfaction is backed by our 30-day 100% refund policy.
Dinner Call at Silver Spring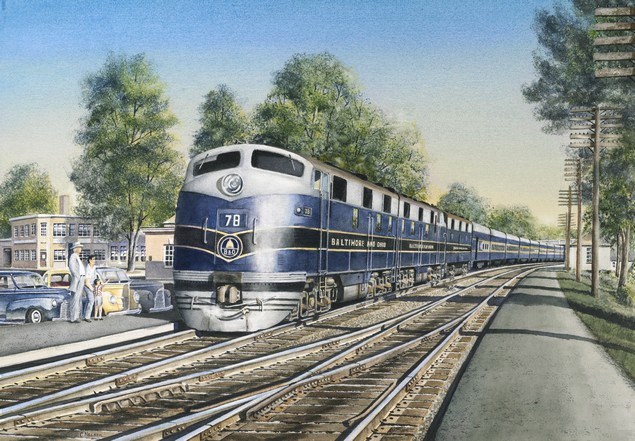 Large Print
29" x 21"

$175.00




$129.99

Small Print
15 3/4" x 11"

$85.00




$59.99