The B&O EL3 2-8-8-0 Locomotive
The Baltimore & Ohio was a coal hauling railroad with routing through some of the roughest geography east of the Mississippi. Moving these high-tonnage coal trains, some over 100 cars in length, over the steep mountain grades, required additional horsepower at the rear of the train. This limited edition train print showcases two class EL3 2-8-8-0 locomotives, pushing hard on the back of a coal train, up Newburg Grade on the west-end subdivision.

This classic painting of the B&O EL3 2-8-8-0 locomotive is now available as a limited edition Giclee print with special pricing and free shipping. Each limited edition Giclee print ships with a Certificate of Authenticity. The limited edition size for reproductions of the original painting is 200 large prints and 500 small prints. Your satisfaction is backed by our 30-day 100% refund policy.
100 Cars Ahead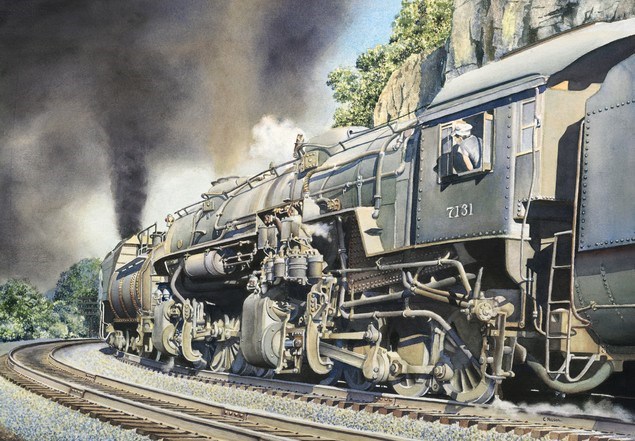 Large Print
29" x 20 1/2"

$175.00




$129.99

Small Print
15 1/2" x 10 7/8"

$85.00




$59.99