The B&O Metropolitan Special
Until 1967, mail was hauled exclusively by railroads. Train #11, The Metropolitan Special became one of B&O's most profitable daylight trains by providing a combination of mail, express freight, and passenger services. This limited edition train print showcases The B&O Metropolitan Special, with an E7A & B unit, and four head-end mail & express cars, leading a compliment of passenger equipment down Cranberry Grade. The Metropolitan Special outlived it's more famous west-end counterparts to ultimately become the last surviving B&O through train on the Baltimore -Cincinnati- St. Louis run.

This nostalgic painting of The B&O Metropolitan Special is now available as a limited edition Giclee print with special pricing and free shipping. Each limited edition Giclee print ships with a Certificate of Authenticity. The limited edition size for reproductions of the original painting is 200 large prints and 500 small prints. Your satisfaction is backed by our 30-day 100% refund policy.
Over the Divide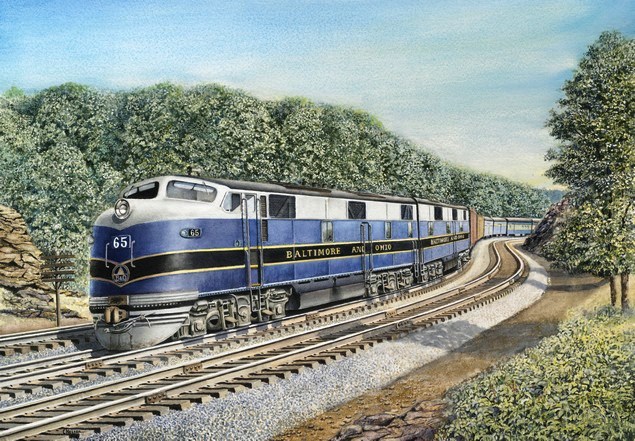 Large Print
29" x 21 1/4"

$175.00




$129.99

Small Print
14 7/8" x 10 7/8"

$85.00




$59.99